SXC110
-
Color Specialist Certificate Program for Art, Design and Fashion-Related Products
1053362
Delivery Options
In-Person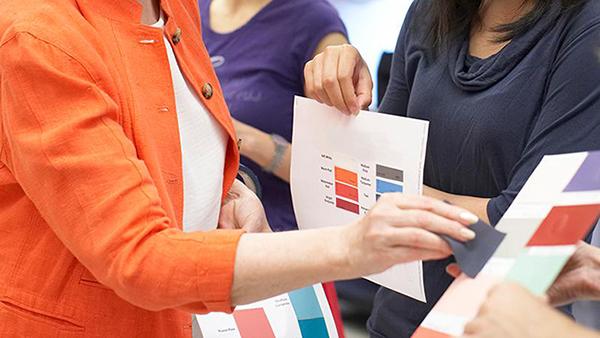 Course Description
Artists, designers, and merchandisers embark on an 8-week certificate program that cultivates their ability to use color to achieve success and increase sales with an understanding of consumer behavior. Work hands-on developing professional palettes to make confident design, styling and merchandising decisions. This certificate program includes a panel discussion by industry experts who work with color in their fields, career coaching, and a special session conducted by a top trend expert. Visits and demos include FIT's unique color facilities.
Learner Outcomes
How color impacts branding and purchasing decisions, including subliminal messaging
How to use color as a creative competitive tool
Color psychology in today's multi-cultural market
Professional color vocabulary, resources, and guides
Create color palettes, combinations, and stories
How to use color as a mood and appearance enhancer
The art and science of color forecasting
Possible career paths and advancement
Notes
Course Materials: Students should expect to purchase some workshop-related materials assigned at the first class and have a color wheel by The Color Wheel Co for the first class of the program.
This course may be offered in-person, remotely, or online; please click each available section to view more details.
Under course 'Type' you will see one of these options:
Enroll Now - Select a section to enroll in
Required fields are indicated by .